Hebron Community Foundation

About the Hebron Community Foundation
The Hebron Community Foundation was established in 2012 with funds from the Ishmael & Rose Diede estate. Ishmael was a local community photographer in Mott for 38 years, serving Hettinger and Western Morton Counties.  He  wished for his estate to continue to benefit the communities that had supported him and Rose throughout their lives. Thanks to his generosity, the Hebron Community Foundation now has the opportunity to provide funding for community projects and scholarships to area students.
The Hebron Community Foundation is managed locally by a group of volunteers whose main activities are building the fund and recommending grants annually.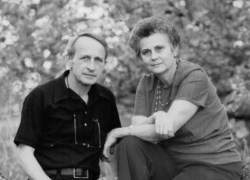 Local Advisory Committee
Stephanie Hochhalter 
Kevin Staiger 
Collin Scull 
Ken Rehling 
Chester Brandt 
Kevin Nelson 
Contact
Stephanie Hochhalter
400 Church Ave
Hebron, ND 58638

701-878-4442
or contact John Heinen Western ND Director for NDCF
Apply for a Grant from the Hebron Community Foundation
Grants shall be awarded only to those organizations designated by the IRS as 501(c)(3) nonprofit tax exempt groups, or government agencies. Groups without such designation seeking to apply may enlist a fiscal sponsor. Please contact john@ndcf.net  or (701) 590-4614 at NDCF for more information.
Grants shall be awarded to organizations within the Hebron community. 
Grants to religious organizations shall be limited to those activities which are non-denominational and serve the entire community. 
Application forms will be available online at www.NDCF.net/Hebron. 
Applications shall be due no later than April 1 each year. Extensions may be granted at the discretion of the Advisory Committee. 
Approved grant requests may be funded in full or partially, at the discretion of the Advisory Committee. 
Funding Priorities 
High Priority 
Organizations that serve Youth, Senior Citizens, Leadership, and Community Development 
Projects or programs that benefit a greater number of residents 
Low Priority 
Requests for multiple-year funding 
Requests for operating funds or day-to-day expenses 
The following will NOT be considered: 
Requests for grants or scholarships for individuals 
Deadline: April 1
AVAILABLE GRANT DOLLARS FOR 2017 CYCLE: $5685
---
Download an application form, and send completed application to:
          Hebron Community Foundation
          400 Church Ave
          Hebron, ND 58638
Grants Awarded by the Hebron Community Foundation in 2014
Hebron Public School Library - $944 towards an automated library system
Hebron Fire Department - $1,856 to purchase one set of bunker gear
Hebron Park Board - $1,500 for pool resurfacing
Brick City Activity Center - $500 to support the senior center
Hebron Public School - $1,000 for Lego education products to promote STEM education
FM Area Foundation - $100 for a Connected Puzzle for the local elementary school
The North Dakota Community Foundation also administers the following funds in the Hebron area:
Ishmael & Rose Diede Scholarship for Hebron
Established with a gift from the estate of Ishmael Diede. This permanent endowment fund will be used to provide scholarships to high school students in Hettinger & Western Morton Counties.
Robert E. Chase Scholarship
The Robert E. Chase Scholarship Fund was established in 1994 by the Mandan Rotary Club to honor longtime Mandan businessmanand community leader Robert E. Chase.
Copyright © 2017 North Dakota Community Foundation