Stanley Area Community Foundation

About the Stanley Area Community Foundation
The Stanley Area Community Foundation was established in 2008 by a group of residents concerned about the lack of funding for local organizations. It provides a method of receiving donations and distributing grants to benefit projects or nonprofit organizations in the Stanley area. The Foundation is affiliated with the North Dakota Community Foundation, which is a nonprofit, tax-exempt corporation under IRS code 501(c)(3) and North Dakota Law.
The Stanley  Area Community Foundation is managed locally by a group of volunteers whose main activities are building the fund and recommending grants annually. 
Local Advisory Committee
Grace Lystad (Chair)
Wayne E. Johnson
Doug Kinnoin
Dan Lindberg
Donald Longmuir
Jenny Gaaskjolen
Abbey Roland
Ashley Skarsgard
Ray Schepp
Contact
Grace Lystad
PO Box 154
Stanley, ND 58784
(701) 628-3253 Send an Email
or the committee at stanleyareacommunityfoundation@gmail.com or (701)-595-0039 please leave a message if someone does not answer and we will call you back as quickly as we can.
or contact John Heinen at the North Dakota Community Foundation john@gmail.com or (701) 590-4614
Apply for a Grant from the Stanley Area Community Foundation
Grants shall be awarded only to those organizations designated by the IRS Code as 501(c)(3) non-profit tax exempt groups, or government agencies. 
Grants shall be awarded to organizations within Stanley and surrounding communities, as determined by the Advisory Committee. 
Grants to religious organizations will be limited to those activities which are non-denominational and serve the entire community. 
Applications shall be due September 25 of each year. The deadline may be extended at the discretion of the Advisory Committee. 
Funding Priorities 
High Priority
Projects or programs that benefit a greater number of residents 
Requests that demonstrate applicant will seek or has secured other funding sources 
Low Priority 
Requests for operating funds or day-to-day expenses 
Requests for multiple-year funding 
Deadline: September 25 (extended)
---
Download an application form, and return completed application to:
          Stanley Area Community Foundation
          PO Box 154
          Stanley, ND 58784
QUESTIONS: office phone (701) 595-0039 or email stanleyareacommunityfoundation@gmail.com
Awarded Grants 2015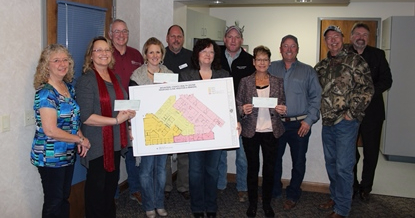 --Montrail Country Health Emergency Room Expansion $5,000
--Sibyl Center for Life Enrichment $1,000
--Golden Age Club $3,000
--5th and 6th Grade Football Uniforms $5,000
--Blue Jays Sports Complex $15,200            
The North Dakota Community Foundation also administers the following funds in the Stanley area.
---
Einar & Helma Septon Memorial Scholarship
The fund was established in 1991 by Richard D. Septon and Avis K. (Septon) Monson in memory of their parents, Einar & Helma Septon. This scholarship will only assist students who have chosen to attend Concordia College, Moorhead, MN. 
Annie's House Building Fund
The Annie's House Fund was established in 2011 to support the work of building the Annie's House at the Bottineau Winter Park. Annie's House will provide an integrated, adaptive ski facility and program to accommodate the special needs of disabled children and young adults. Details may be found here Annie's House
Torrey & Lillian Peterson Endowment Fund
Established in 2002 by Chad M. Peterson. The purpose of the fund is to support worthwhile charitable programs in Stanley, ND.
Copyright © 2017 North Dakota Community Foundation