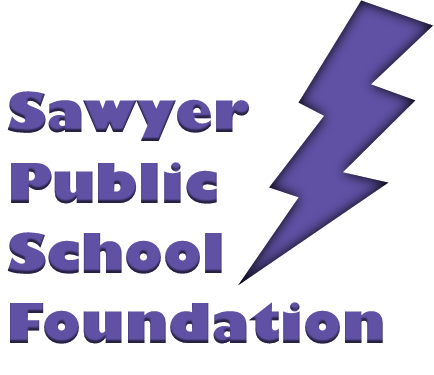 The Sawyer Public School Foundation was established in 2019 to provide donors with a way to make tax-deductible donations to benefit the Sawyer School District.
The Foundation will enhance education for our students by financially assisting various projects and programs not in the regular school budget, including landscaping and sidewalk improvements, facility updates, new technology, and other projects.
There are many ways that the Foundation can assist the Sawyer School District.   A current project that is being introduced is a renovation of the blacktop area on the northwest side of the school.  It is going to be redone as a grassy area with much needed correct ground water sloping and some sidewalk replacement.  This has to be done for various reasons from beautification to safety.  It will be a much needed aesthetic improvement to the exterior of the school.
Other future projects could include more outside sidewalk improvements, roof improvements, hallway and classroom carpet replacements, door replacements, etc. The possibilities are truly endless.
Will you help support our school?
To Make a Donation:
Online:  Click on the "Donate" tab at the left.  You can make an online donation using your credit card. Be sure to find "Sawyer Public School District Fund" in the search box so your donation is properly credited to our fund at NDCF.
Via Mail:
Write your check to "NDCF" and write "Sawyer School Fund" on the memo line.

Mail the form and your check to:  NDCF, PO Box 387, Bismarck, ND 58502-0387

Regardless of whether you give online or by check, you will receive a receipt from NDCF noting your donation.
Thank you!