Vision West ND Foundation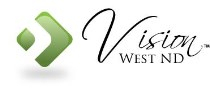 WHO WE ARE
The Vision West ND Foundation was created to build two primary funding sources to support the activities of the Vision West ND Consortium and the areas it serves. One fund is a project-oriented non-endowed account established so funds can be easily accessed for projects and operations. The other fund is a sustaining endowment established to use the interest this account earns to serve communities over the long term.
WHAT WE DO: Click on the MORE INFORMATION TAB for our Strategic Plan, Brochure or Case Statement
OUR PARNERSHIP WITH NDCF
Given the extensive experience and back office tools that have been developed over the last 40 years at NDCF, the partnership with Vision West ND is a great addition to the other "services" Vision West ND offers. These services ultimately build up resources for the county and community. The following are some of the ways our partnership can help members, communities and non-profits. No matter your level of understanding or interest, talking through possibilities is the first step. (click here for more info)
ND 40% Income tax credit: Available for those who earn income from ND and make a gift to a "Qualified" endowment. (Click here for details)
For Counties and Communities: Tie into your existing Community Foundation (click here) to see if your community or county has one.
To launch a new fund contact us (click here)
For Business Owners or Corperations: Giving back to the community can take many forms. When you are looking to go beyond the "normal" and wanting to building a lasting "memory" of your business or family name in the community, charitable giving can be a great way. From donating a % of net revenue each year, to setting aside a portion of a sale or transfer of a business, to using gambling proceeds, all can help build long-term value for your community. Ask us for details.
For Individuals & Families: Family names come and go over the years depending on who stays or leave an community. Legacy planning allows a individual or family to honor their present and memorialize their past by establishing a "Living Legacy" by making a "named" gift. We understand this is very personal and offer no obligation Legacy planning. We can help individuals of families talk through their Vision...then work alongside tax or legal planners to solidify the details and ensure all goals are met.
For Schools: Inviting  alumni, parent's of alumni and past teachers and administrators, who many times are not living in the area, allows schools to fund non-budgeted projects, or projects that have reoccurring needs like IT upgrades, and puts dollars to work in the community. We connect you with NDCF resources to help formalize what you currently do, or help you establish the processes and practices, that allow you to attract these gifts for years to come.. Click here for a couple examples.
For Non-Profits: Training of boards, managing a scholarship fund, establishing an endowment, marketing, preparation for a campaign are a few ways we can help you to succeed. Click here for general information.
Financial Professionals: Bankers, Trust Officers, CPA's, Lawyers, Money managers, Financial planners you are the people who can formalize Legacy discussions. Vision West ND and NDCF work closely with many planners already as one of the team members as Legacies are being defined. This process ensures communication between planners, donor over the long-term, and helps support a Legacy that will be truly "Lasting". Click here for a simple planning outline Or if you are a individual preparing for your a visit with your planner..this can be a good resource as well.
Copyright © 2020 North Dakota Community Foundation