NDCF News and Reports
Our Latest News . . .
NDCF Awards $609,000 in Scholarships
September 15, 2016 . . . The North Dakota Community Foundation will award over $609,000 in scholarships to over 370 North Dakota students in 2016.  The organization currently manages over 100 scholarship funds supported by North Dakotans, former residents and those interested in helping North Dakota students succeed.
"There are many students attending college this fall thanks to a scholarship from NDCF." said Kevin Dvorak, President and CEO of the North Dakota Community Foundation.  "We are thankful to our donors who created and supported these scholarship funds for North Dakota youth."
For a listing of scholarship award winners, click here.
---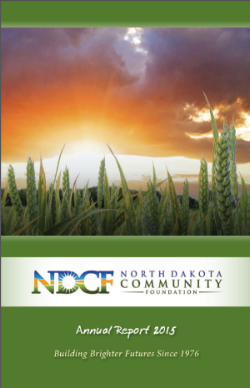 Our 2015 Annual Report!
June 29, 2016:  The North Dakota Community Foundation (NDCF) has released its 2015 Annual Report.  The report indicates the organization surpassed $68 million in net assets in 2015. 
"Over $64 million of our total net assets are in permanent endowment funds," said Kevin Dvorak, President and CEO of NDCF.  "Those funds will generate grant dollars to support North Dakota communities, charities, and students forever."
The report will be mailed to NDCF donors and community leaders in early July.  To view an electronic version of the 2015 Annual Report, click here.
---
Dvorak Receives NonProfit Leadership Award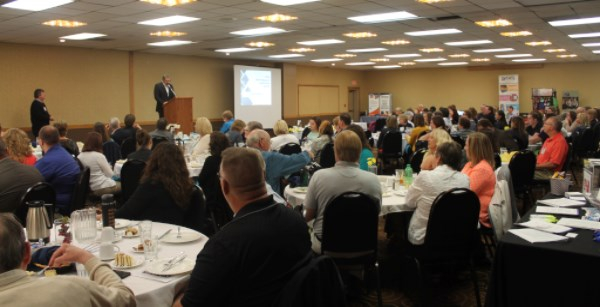 BISMARCK – Kevin J. Dvorak, president and CEO of the North Dakota Community Foundation, received the North Dakota Association of Nonprofit Organizations' (NDANO) Walt Odegaard Leadership Award June 1 during the Nonprofit Leadership Conference in Bismarck.
The Walt Odegaard Leadership Award is given to an individual with more than 15 years of leadership experience who has made a difference by strengthening North Dakota and its nonprofit sector through his or her long-term commitment to leadership, volunteerism and philanthropy.
Dvorak has served as president and CEO of the North Dakota Community Foundation (NDCF) for 21 years. Under his leadership, the organization has grown from an asset base of $5 million to nearly $70 million. He fully embraces the idea that all charitable giving is local, and that, with the right local leadership, any community is capable of supporting a healthy nonprofit sector.
---
NDCF Celebrates Its 40th Anniversary
Bismarck, ND - The North Dakota Community Foundation (NDCF) celebrated its 40th anniversary on April 23 with a banquet for its current and former board members, community leaders, and major donors.  The organization is also planning several socials across the state for its hundreds of volunteers.  The events are sponsored by the organization's investment advisors. NDCF now manages approximately $70 million in charitable resources for communities, charities and citizens across North Dakota.
"Our mission is to improve the quality of life for North Dakota's citizens through charitable giving and promoting philanthropy," said Kevin Dvorak, President and CEO of NDCF since 1995.  "We accomplish that mission primarily through the management of charitable endowment funds on behalf of communities and charities all across the state of North Dakota."
Since its inception, NDCF has awarded over 26,500 grants totaling more than $62 million for projects and programs all across the state.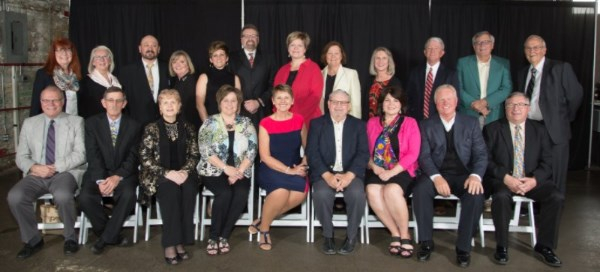 ---
NDCF Elects New Directors and Officers
April 26, 2016 - The North Dakota Community Foundation is pleased to announce the election of Bonnie Krause of Hazen, Wayne Hauge of Ray, and Ann Poeschel West of Grafton to three-year terms on the NDCF Board. 
Krause recently retired from her position as CEO/General Manager of West River Telecommunications in Hazen, North Dakota.  She has been very active in her community, serving on a variety of committees and boards including the Women's Action Resource Center, the Hazen Library Board, the Union State Bank Board of Directors, and the Bison Boosters. 
Hauge is a fourth generation farmer and retired CPA, who has served as a volunteer EMT on the Ray Ambulance Squad for 18 years and as Treasurer for the Ray Community Development Corporation for 28 years.  He was also instrumental in starting the Ray Scholarship Fund in 2015 for graduates of Ray High School.
Poeschel West is a financial advisor with Raymond James Financial Services.  She currently serves on several regional boards including Walsh County Social Services, the Save Our Strand Theatre Foundation, and the Sunset Founders Advisory Council.
Elected to serve one-year terms as Officers of the Board:
Chair: Douglass Prchal, Retired Director of ND Parks & Recreation, Bismarck
Vice Chair: Scott Swenson, CEO of McKenzie County Bank of Watford City
Secretary/Treasurer: Nancy Johnson, Business Owner in Fargo
Joining the Officers on the Executive Committee:
Mike Killoran, CFO and Senior Lending Officer of First State Bank of ND, Casselton
Tim Ottmar, attorney and partner at Ottmar & Ottmar PC, Jamestown
---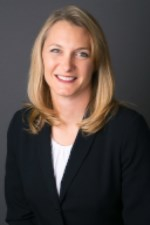 NDCF Welcomes Stonecipher and Guss
Christi Stonecipher and Sarah Guss have joined the staff of the North Dakota Community Foundation (NDCF). 
Stonecipher is the Director of Communications and is based out of NDCF's Bismarck office.  She graduated from the University of North Dakota with a double major in Marketing and Management and has extensive experience in the communications/marketing field, working as a consultant for a variety of clients over the last 15 years.  She is responsible for the creation and implementation of communication plans that increase awareness of NDCF programs and services and provides marketing support to NDCF's 61 local community endowment funds.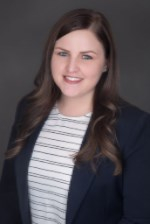 Guss is the Accountant/Administrator for NDCF and works out of the organization's headquarters in Bismarck.  She graduated from Minot State University with a Bachelor of Science in accounting and has several years of experience providing accounting services for a variety of companies.  Guss's main responsibilities are providing efficient, accurate and timely accounting and office management services to the staff and donors/partners of NDCF. 
---
Starion Financial Gives $15,000 to Five North Dakota Community Foundations
Bismarck, ND – Starion Financial has made a $15,000 donation to five different community foundations in North Dakota.  The gift will be split among the following community funds:
$2,500 to the Oakes Area Community Foundation
$2,500 to the Ellendale Area Community Foundation
$2,500 to the Bottineau Community Endowment Fund
$2,500 to the Dunseith Area Community Foundation
$5,000 to the Rolla Community Endowment Fund
These local community funds are managed as permanent component endowment funds of the North Dakota Community Foundation.  The principal in the funds is invested and the earnings are given as grants every year for projects and programs that improve the quality of life in the local area.
"Starion's gift is a long-term investment in these communities that will provide grant dollars for community projects and programs forever," says Kevin Dvorak, President and CEO of the North Dakota Community Foundation.
---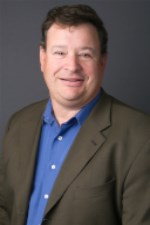 NDCF Welcomes Heinen and Clayton
The North Dakota Community Foundation (NDCF) is pleased to announce the addition of John Heinen and Juanita Clayton to their staff
Heinen will serve as Development Director for the western part of the state. He graduated from St. John University and has over 22 years of experience in gift planning and charitable trust programs. He will provide support to NDCF's community endowment funds in western North Dakota and will work out of their Dickinson office.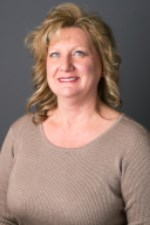 Clayton has been hired as an Administrative Assistant for NDCF headquarters in Bismarck. She previously owned and managed her own company for 25 years, handling all aspects of the operation including customer service, accounts payable, accounts receivable, payroll, and employee benefits. She will provide administrative support to NDCF staff and it's over 550 individual funds.
For more information about NDCF and its programs, call John at 701-590-4614 or Juanita at 701-222-8349.
---
NDCF Announces New Community Foundations in Celebration of National Community Foundation Week
Bismarck, North Dakota ─ During the week of November 12-18, 2015,the North Dakota Community Foundation (NDCF) will join more than 750 community foundations across America celebrating Community Foundation Week. For more than 25 years, the effort has raised awareness about the increasingly important role of these philanthropic organizations in fostering local collaboration and innovation to address persistent civic and economic challenges.
NDCF currently administers community endowment funds for over 61 community foundations in North Dakota, including the most recent additions in 2015:  the Adams County Community Foundation in southwest North Dakota and the Dale L & Russell F Brown Memorial Funds, benefitting the communities of Lisbon and Milnor in the southeast part of our state.
"Community foundations provide resources to address the changing needs of a community," said Kevin Dvorak, President & CEO of NDCF. "They are becoming increasingly important as our rural communities face a variety of challenges from aging infrastructure to sudden population changes to limited entertainment options for their residents."
Read more about the great work of community foundations in North Dakota here.