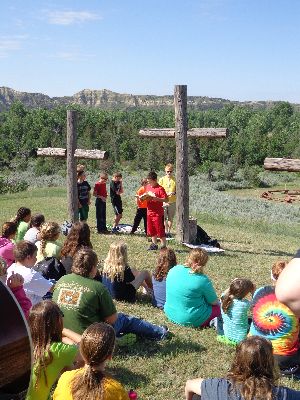 Assisting Nonprofits
Nonprofits provide vital services to our North Dakota communities and residents, from education to senior care to arts opportunities that wouldn't otherwise exist.
NDCF is here to help our nonprofits not only survive but thrive. Helping you accomplish your mission is pretty much ours.
We can help nonprofits fund specific projects and programs through our Statewide Greatest Needs Fund and numerous other granting opportunities. But we are most excited about helping you establish an endowment fund for your organization. An endowment fund provides permanent charitable cash-flow and over time, these interest earnings can become an important part of your annual budget. Endowment funds are an indicator that an organization's leadership is planning for the future.
Here are some details for getting started:
A nonprofit agency or one of its supporters makes a gift to NDCF for the organization.

The Fund is established with this initial gift and the completion of an agreement outlining terms and conditions. 

Our professional staff supports the organization in its efforts to grow its endowment.

Anyone may make gifts at any time to the organization's endowment fund. These gifts may be cash, publicly traded or closely held securities, bequests, planned gifts, insurance, IRAs, Remainder or Lead Trusts, real property, etc. 

NDCF professional staff handles the administrative details and tax forms. 

Your endowment fund total assets, gifts received, and grants given every year are listed in NDCF's annual report and available to you via an online portal.
Financial Facts
Organization Endowment Funds can be established with a minimum gift of $50, but must have reached a total balance of $25,000 within 3 years.

Approximately 4% of the previous 12 quarter rolling average of the Fund's balance is available annually for the organization's use.

Funds are invested in a diversified portfolio designed to manage market risk, dampen market volatility, and ensure steady growth over time.

NDCF services - from administrative to tax-related to fundraising support - are all provided for one low annual fee, allowing you to focus on your mission.
For more information about how an endowment fund can help your nonprofit, please give us a call at 701-222-8349.
Existing Organization Endowment Funds at NDCF
Abused Adult Resource Center Endowment
Alpha Opportunities Endowment Fund
Badlands Ministries Endowment Fund
Bethel Church Endowment Fund
Bethel Lutheran Church Endowment
Bismarck Art & Galleries Association Endowment
Bismarck Library Foundation Endowment
Catholic Charities North Dakota Endowment
Cooperstown Bible Camp Endowment
Dickinson Public Library Foundation
Dickinson Rotary Charitable Impact Fund
Rotary Dickinson Project Non-Endowment Fund
Enchanted Hwy Foundation Project Non-Endowment Fund
Enderlin Museum Endowment
Gateway to Science Endowment Fund
Good Samaritan Health Service Fund
Harvey Public Library Endowment Fund
Heart of America Germans from Russia Endowment Fund
Herb Boswau Memorial Professional Development Grant Fund
HIT, Inc. Endowment Fund
Humanities North Dakota Endowment
Jeremiah Program Fargo Moorhead Scheel Barry Endowment
Kalloch Eunice Gronvold House Endowment Fund
Linton Hospital Endowment Fund
Lord of Life Lutheran Church Endowment Fund
Mandan Presbyterian Church Endowment Fund
Martin's Lutheran Church Endowment Fund
McKenzie Right to Life
Missouri Slope Areawide United Way Endowment Fund
Morton Mandan Public Library Endowment Fund
North Dakota FFA Foundation Endowment Fund
Northwood Deaconess Health Center Endowment
Pembina County Historical Society
St. Anthony's Church Endowment Fund
Pioneer Square Endowment Fund
Prairie Learning Center Endowment Fund
Pride, Inc. Endowment Fund
Red Willow Ministries Endowment
Rural Leadership ND Alumni Foundation,Rural Leadership ND Alumni Foundation Non-Endowment Fund
Sacred Heart Benedictine Endowment Fund
United Tribes Technical College Endowment Fund
United Way Dickinson Endowment
Vision West ND Endowment Fund
Vision West ND Project Non-Endowment Fund
Volunteer Caregivers for the Elderly Endowment Fund
Washburn Volunteer Ambulance Service Endowment Fund
Women's Care Clinic Endowment Fund
Young Life North Dakota (Bismarck) Fund
Young Life North Dakota (Native) Fund