Fiscal Sponsorships
Does your community want a new hockey arena? Is your aging theater in need of some updates? Maybe you want to start an art's club for teenagers but don't know how to begin.
NDCF is committed to improving life in North Dakota and promoting philanthropy across the state. One way we do this is by serving as a fiscal sponsor for an organization or project-specific initiative. This allows people to focus on their passion instead of worrying about establishing 501(c)(3) status, tax implications, or other administrative and legal details. Your donors receive a tax deduction for their gift toward your project and you don't have to worry about filing a tax return.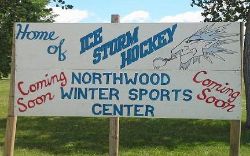 Some examples of projects and organizations that use NDCF as their fiscal sponsor include:
Rough Rider Honor Flight Fund - From 2009 to 2011, this fund supported trips for veterans to visit memorials dedicated to them in Washington, D.C. 
31:8 Project - This fund supported the work of the 31:8 Project before the organization was granted 501(c)(3) status by the IRS. The organization's mission is to educate, advocate, and raise awareness in order to prevent human trafficking.
Mountain Bornum Park Fund - A group of dedicated volunteers in Mountain, ND, wanted to build a playground for the community's families to enjoy. 
Partnering with NDCF provided these groups with a way to accept tax deductible donations and grant funds in order to complete a project or further their nonprofit mission. 

We can set up a fiscal sponsorship for you in very little time. If you are interested in this option for your community project, organization, or program, please give us a call at 701-222-8349. We can explain the process to you and answer any questions you may have.