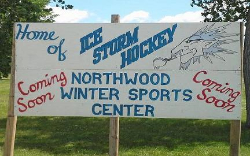 Fiscal Sponsorships
Does your community want a new hockey arena?  Is your aging theatre in need of some updates?  Maybe you want to start an art's club for teenagers but don't know how to begin.
NDCF is committed to improving life in North Dakota and promoting philanthropy across the state.  One way we do this is by serving as a fiscal sponsor for an organization or project-specific initiative.  This allows people to focus on their passion instead of worrying about establishing 501(c)(3) status, tax implications, or other administrative and legal details.  Your donors receive a tax deduction for their gift toward your project and you don't have to worry about filing a tax return.
Some examples of projects and organizations that use NDCF as their fiscal sponsor include:
Cavalier Community Clubhouse Project
Central Dakota Cyclists Fund
Emerado Community Development Coalition
North Dakota Patriot Guard Fund
Harmon Lake Recreation Area Fund
Killdeer Ambulance Service Fund
Long X Council on the Arts
Friends of the Lyric Fund
Native American Development Center
ND Department of Ag - Mobile Food
North Dakota Aviation Hall of Fame Fund
North Dakota Indian Business Alliance
North Dakota Suicide Prevention Coalition
Northwood Hockey Boosters Fund
New Rockford Golf Club Improvement Fund
Pink It Forward Fund
Powers Lake PreSchool Association - dba Little Ranchers Community Preschool
Powers Lake Restoration Fund
Save Our Screen Fund - Cavalier
Save Our Strand Fund - Grafton
Women's Health Conference
Adrian Parks & Recreation Non-Endowment
Cav-Landic Trail Non-Endowment Fund
Cowboy Sports Complex Fund - Killdeer
Divide County Public School Foundation
Parkinson Wellness Programming Fund
Ellendale Public School Non-Endowment Fund
Grenora Public School Foundation Fund
Mayo Meadows Health Professional
Northern Cass Foundation Non-Endowment
ND Conservation Non-Endowment Fund
Powers Lake Public School Foundation
Stanley Library Non-Endowment Fund
Tioga Swimming Pool Fund
Watford City High School Alumni Foundation
We can set up a non-endowment, fiscal sponsorship for you in very little time (like, maybe an hour).  So if you are interested in this option for your community project, organization, or program, please give us a call at 701-222-8349.  We can explain the process to you and answer any questions you may have.