NDCF News and Reports
Our Latest News . . .
Starion Bank Donates $20,000 to Five ND Communities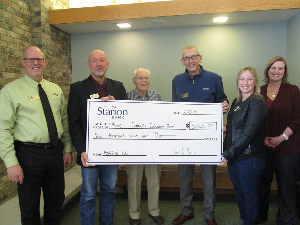 February 22, 2019 . . .Starion Bank has made a $20,000 donation to five different communities in North Dakota.
The gift will be split among the following community funds:
$5,000 to the Oakes Area Community Foundation
$5,000 to the Ellendale Area Community Foundation
$5,000 to the Rolla Community Endowment Fund
$5,000 to the Bottineau Community Endowment Fund, benefitting both Bottineau and Dunseith
These local community funds are managed as permanent component endowment funds of the North Dakota Community Foundation.  Earnings from the funds are given as grants every year for projects and programs that improve the quality of life in the local area.
"We are pleased to provide permanent gifts to these communities," said Craig Larson, CEO and chairman of the board for Starion Bank. "Throughout Starion's 50-year history, giving back to the community has been an important part of who we are as a community bank and this is one way to make a lasting impact."
---
NDCF to Host 52nd Annual ND Picnic in AZ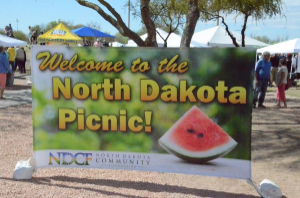 Jan 31, 2019— The North Dakota Community Foundation (NDCF) will be hosting the 52nd annual North Dakota Picnic at Red Mountain Park in Mesa, Arizona on Sunday, March 3, 2019.  The event is a gathering of anyone with North Dakota ties living either permanently or part-time in Arizona.  Last year's picnic drew an estimated 2,000 people.
"We are excited to continue this great tradition of bringing North Dakotans together to reconnect with old friends and neighbors," said Kevin Dvorak, President and CEO of NDCF.
The event will be held from 10 am to 2:30 pm on Sunday, March 3 at Red Mountain Park, 7745 E. Brown Road in Mesa.  It will feature oldies music by the band Spotlight, classic cars on display, and a variety of food trucks and vendor booths.  The cost to attend the picnic is $5 per person and people can pay online in advance at www.NDCF.net/Picnic or at the Registration Table on the day of the event.
Although there is seating available at the park, attendees are encouraged to bring their own lawn chairs.  For more information, visit www.NDCF.net/Picnic, www.facebook.com/ndpicnic, or contact Christi Stonecipher at (701) 222-8349 or christi@NDCF.net.
---
NDCF Announces New Community Foundation in Celebration of National Community Foundation Week, Nov 12-18
November 7, 2018 – During the week of November 12-18, 2018, the North Dakota Community Foundation (NDCF) will join more than 795 community foundations across America celebrating Community Foundation Week. For 29 years, the effort has raised awareness about the increasingly important role of these philanthropic organizations in fostering local collaboration and innovation to address persistent civic and economic challenges.
As a part of Community Foundation Week, NDCF is supporting the National Philanthropy Day activities in Fargo on November 17, to honor philanthropic leaders across the state.
NDCF currently administers community endowment funds for 65 local community foundations in North Dakota, including the most recent addition in 2018:  the Hatton Area Community Foundation in eastern North Dakota.
"Community foundations provide a stable charitable resource for worthwhile programs and projects in your community," said Kevin Dvorak, President & CEO of NDCF.  "They support important pillars of a town – the school system, parks, healthcare system, senior services, and the arts in order to improve the quality of life for area residents."
---
NDCF Awards $149,174 in Grants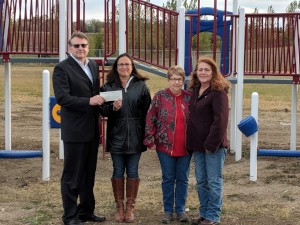 October 11, 2018 . . . The North Dakota Community Foundation has awarded $149,174 in grants from its Statewide Greatest Needs (Unrestricted) Fund to 36 organizations across the state working to improve the quality of life for state residents. 
Kevin J. Dvorak, President and CEO of the North Dakota Community Foundation delivered the grant checks across the state over several weeks in October.  NDCF Development Directors Amy Stromsodt of Larimore, Kara Geiger of Bismarck, and John Heinen of Dickinson also participated in the presentations, as well as various NDCF board members from across the state.
The NDCF Board of Directors reviewed and discussed 137 grant applications at their meeting in September to make the determination of awards.
See the Grant Delivery Schedule here.
---
NDCF Awards $500,000 in Scholarships
September 21, 2018 - The North Dakota Community Foundation (NDCF) will award over $500,000 in scholarships to over 350 North Dakota students in 2018.  The organization currently manages over 150 scholarship funds supported by North Dakotans, former residents and those interested in helping North Dakota students succeed.
"We are honored to award these scholarships to such deserving youth." said Kevin Dvorak, President and CEO of NDCF.  "And we are thankful to our donors who have created these funds to further the education of North Dakota students."
Read the full news release here . . .
---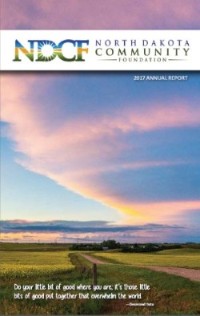 NDCF Surpasses $80 Million in Net Assets
May 30, 2018 – Bismarck, North Dakota . . . The North Dakota Community Foundation (NDCF) has announced that it surpassed $80 million in net assets in 2017.  The organization was founded in 1976 to improve the quality of life of North Dakotans through charitable giving and promoting philanthropy. 
NDCF currently manages over 650 charitable funds, including 64 local community foundations in the state and over 150 scholarship funds for North Dakota students.  The organization has offices in Bismarck, Grand Forks, and Dickinson, North Dakota.
More detailed information about NDCF's activities in 2017 can be found in its Annual Report.
---
NDCF Announces New Board Members
May 7, 2018 - The North Dakota Community Foundation (NDCF) is pleased to announce the election of Troy Walters of Grenora and Patrick Kelly, D.D.S. of Bowman to three-year terms on the NDCF Board. 
Walters is the Superintendent and High School Principal at Grenora Public School.  He has served on many local and regional boards including the Rural Education Association Executive Board, the Great Northwest Education Association, the Montana Coaches Association, the North Dakota Coaches Association, and has served as President of the Wil-Mack Special Education Board for Williams and McKenzie counties.
Kelly is a dentist and co-owner of Prairie Dental, Inc. in Bowman, North Dakota, where he has lived for 33 years.  He has served on the Southwest Healthcare Services Board of Directors for seven years and the Southwestern District Health Unit board for 17 years.
---
Stromsodt, Geiger, and Heinen Recertified
April 6, 2018:  The North Dakota Community Foundation is pleased to announce that Development Directors Amy Stromsodt, Kara Geiger, and John Heinen have all been recertified by CFRE International as Certified Fund Raising Executives. 
Individuals granted the CFRE credential have met a series of standards set by CFRE International, which include tenure in the profession, education, demonstrated fundraising achievement and a commitment to service to not-for-profit organizations.  They have also passed a rigorous written examination testing the knowledge, skills, and abilities required of a fundraising executive, and have agreed to uphold Accountability Standards and the Donor Bill of Rights.
"The CFRE credential was created to identify for the public and employers those individuals who possess the knowledge, skills and commitment to perform fundraising duties in an effective and ethical manner," states Jim Caldarola, CFRE, Past Chair of CFRE International. "As the certification is a voluntary achievement, the CFRE credential demonstrates a high level of commitment to themselves, the fundraising profession, and the donors who are served."
CFRE recipients are awarded certification for a three-year period.  In order to maintain certification status certificants must demonstrate on-going fundraising employment and fundraising results, and continue with their professional education.  Employers and donors who work with CFRE's know they are getting a professional who is committed to the best outcomes for their organization and has the requisite knowledge and skills.
Our Archives
Annual Reports
News Releases
February 2019 - Starion Bank Donates $20,000 to Five ND Communities

January 2019 - NDCF to Host 52nd Annual ND Picnic in AZ

November 2018 - National Community Foundation Week 2018

October 2018 - NDCF Awards $149,174 in Grants

September 2018 - NDCF Announces Scholarship Winners

May 2018 - NDCF Surpasses $80 Million in Net Assets

May 2018 - NDCF Announces New Board Members

April 2018 - Stromsodt, Geiger, and Heinen Recertified

January 2018 - NDCF Receives Grant from the Funders' Network