NDCF News & Reports
NDCF Awards $705,000 in Scholarships
September 6, 2022 — The North Dakota Community Foundation (NDCF) will award over $705,000 in over 400 scholarships to North Dakota students in 2022.  The organization currently manages over 184 scholarship funds supported by North Dakotans, former residents and those interested in helping North Dakota students succeed.
"We are honored to help these students further their education," said Kevin Dvorak, President and CEO of NDCF. "And we are grateful to generous North Dakotans whose gifts made these scholarships possible."
The following list is organized alphabetically by hometown and provides the name of each scholarship recipient, their hometown, the school they will be attending (if known), and the scholarship fund or funds at NDCF from which the money was granted.  In most cases, a local advisory committee recommends the grant recipient. 
Congratulations to the NDCF Class of 2022!
Download the full news release here.
---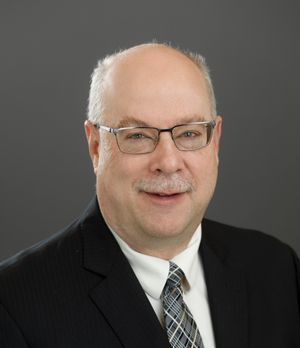 NDCF Welcomes Wanek
May 24, 2022— Jeff Wanek has joined the staff of the North Dakota Community Foundation (NDCF) as their Accountant.
Wanek works out of the organization's headquarters in Bismarck.  He graduated from the University of North Dakota with a degree in accounting and has over 35 years of experience in the field, most recently serving as the Vice President/Chief Financial Officer at Missouri Slope Lutheran Care Center.  Wanek's main responsibilities are providing efficient, accurate and timely accounting services to the staff and donors/partners of NDCF. 
---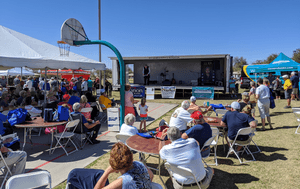 North Dakota Community Foundation to Host ND Picnic in AZ
January 24, 2022 - The North Dakota Community Foundation (NDCF) will be hosting the 54th annual North Dakota Picnic at Red Mountain Park in Mesa, Arizona on Sunday, March 6, 2022.  The event is a gathering of anyone with North Dakota ties living either permanently or part-time in Arizona.  The 2020 ND Picnic drew an estimated 2,500 people.
The event will be held from 10 am to 2:30 pm on Sunday, March 6 at Red Mountain Park, 7745 E. Brown Road in Mesa.  It will feature musical entertainment, a variety of vendor booths, and the opportunity to meet up with old friends.  There will be food available for purchase.  Attendees are asked to pay $5 per person at the Registration Table to help defray costs.
Although there is seating available at the park, attendees are encouraged to bring their own lawn chairs.  For more information, visit www.NDCF.net/Picnic, www.facebook.com/ndpicnic, or contact the North Dakota Community Foundation at (701) 222-8349 or christi@NDCF.net.
---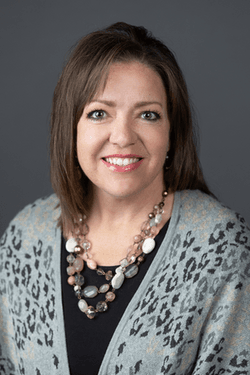 Stromsodt Receives Respected Fundraising Professional Award
November 17, 2021 . . . Amy Stromsodt, Development Director East for the North Dakota Community Foundation, was named the 2021 Respected Fundraising Professional of the Year by the Association of Fundraising Professionals – Northern Plains Chapter at their virtual awards presentation on November 16, 2021. Stromsodt was mailed the official award earlier this month.
Nominated by the North Dakota Community Foundation (NDCF), Stromsodt has been a fundraiser for over 25 years. One of her first jobs in the field was helping Sacred Heart School in East Grand Forks, Minnesota, recover from the Red River Flood of 1997. She started work with NDCF in 1999, serving as its first Development Director and focused on the affiliate (local) community foundations that were under NDCF's umbrella. 
Download the full news release here.
---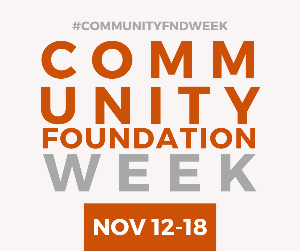 NDCF Celebrates CommunityFoundation Week
November 3, 2021 ─ The North Dakota Community Foundation (NDCF) will join in a nationwide celebration, November 12-18, 2021, to recognize the increasingly important role community foundations play in strengthening local communities and addressing issues such as domestic violence, addiction, and poverty.
"Community foundations are place-based giving organizations whose members understand local issues because they live in the community," said Kevin Dvorak, President and CEO of NDCF. "Not only do community foundations provide resources to those organizations and initiatives that best serve local needs, they provide donors who want to give back with the structure and giving tools that make a positive difference."
NDCF currently administers community endowment funds for 69 local community foundations in North Dakota, as well as a variety of other types of charitable funds including scholarships, donor-advised funds, and organizational endowment funds, which support specific charities in the state.
Download the full news release . . . 
---
NDCF Elects New Director and Officers
Oct. 27, 2021 - The North Dakota Community Foundation (NDCF) is pleased to announce the election of C.J. Hager of Jamestown, Wanda Uran-Nelson of Watford City, and Ken Hall of Bismarck to three-year terms on the NDCF Board. 
Hager is a financial advisor for Ameriprise Financial Services in Jamestown. He has served as President of the Kiwanis of Jamestown, and is also active with the Jamestown Junior Volleyball Board, the Jamestown Volleyball Boosters, Meals on Wheels, and the Jamestown Gymnastics Club.
Uran-Nelson is involved in the family's ranching and farming business, as well as property and business management.  She previously owned a daycare/preschool and a long-arm machine quilting business.  She has been involved in a large number of youth organizations in her area and is currently active with BIO Girls-Watford City, the Long X Arts Foundation, and Angel's Wish TNR.
Hall is founder and current President of Kingdom Business Fellowship, which sponsors the Kingdom Business Conference for Pastors and Leadership.  He has served as the Executive Secretary of the Three Affiliated Tribes in New Town, as well as the Deputy Administrator of their Energy Division.  He serves as Chairman of the Board of Missouri River Resources and is a founding member of the Fort Berthold Allottee Land and Mineral Owners Association, Inc.
Re-elected to serve a second three-year term were download the full news release here . . . 
---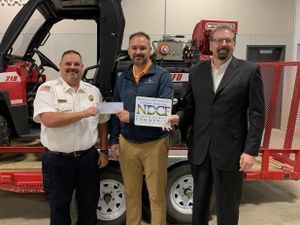 NDCF AWARDS $172,646 IN GRANTS
October 13, 2021 . . . The North Dakota Community Foundation has awarded $172,646 in grants from its Statewide Greatest Needs (Unrestricted) Fund to 39 organizations across the state working to improve the quality of life for state residents.  
"It is because of generous donors that we are able to award these grants," said Kevin J. Dvorak, President & CEO of NDCF.  "Their gifts years ago continue to make a difference today."
The NDCF Board of Directors reviewed and discussed 104 grant applications at their meeting in September to make the determination of awards.  Grant awards are listed below by general area of the state.
Download the full listing of grantees here.
---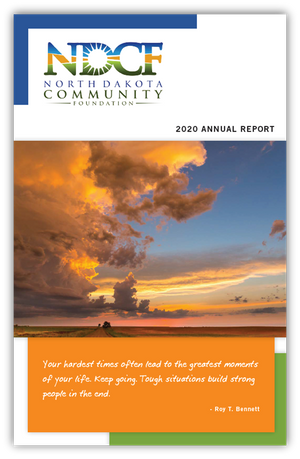 NDCF Surpasses $115 Million in Net Assets
May 5, 2021 – Bismarck, North Dakota . . . The North Dakota Community Foundation (NDCF) has announced that it surpassed $115 million in net assets in 2020.  The organization was founded in 1976 to improve the quality of life of North Dakotans through charitable giving and promoting philanthropy. 
NDCF currently manages over 750 charitable funds, including 69 local community foundations in the state and over 150 scholarship funds for North Dakota students.  It has awarded over $84 million in grants since its inception.  The organization has offices in Bismarck, Larimore, Dickinson, and Wahpeton, North Dakota.
More detailed information about NDCF's activities in 2020 can be found in its Annual Report.
---
Stromsodt, Geiger, and Heinen Recertified as CFREs
April 20, 2021, ND—The North Dakota Community Foundation is pleased to announce that Development Directors Amy Stromsodt, Kara Geiger, and John Heinen have all been recertified by CFRE International as Certified Fund Raising Executives. 
Individuals granted the CFRE credential have met a series of standards set by CFRE International, which include tenure in the profession, education, and demonstrated fundraising achievement.  They have also passed a rigorous written examination testing the knowledge, skills, and abilities required of a fundraising executive, and have agreed to uphold Accountability Standards and the Donor Bill of Rights.
Download the full news release here.