COVID-19 Response & Recovery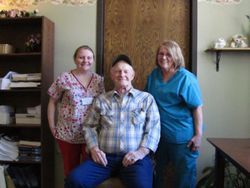 Because the COVID-19 virus will likely impact every corner of the state, individuals and businesses that wish to provide assistance to nonprofit organizations or others are encouraged to donate directly to their own local entities - e.g. senior citizens center, soup kitchen, school system, hosptial, etc.  If these entities aren't able to accept donations, if the donor wishes to make a larger impact statewide, or if the donor prefers a tax receipt for his/her gift, donations may be made to NDCF's 2020 COVID-19 Disaster Response & Recovery Fund.
The North Dakota Community Foundation (NDCF) established the 2020 COVID-19 Disaster Response & Recovery Fund to assist nonprofit organizations and governmental agencies affected by the COVID-19 pandemic across the state.
The grants are intended to support efforts to "flatten the curve" of COVID-19 infections in North Dakota by helping our communities follow public health recommendations and help address the financial impact of following those recommendations. Grants can also be used to assist organizations in delivering critical services in their communities or region, especially if their staffing levels or supplies have been reduced by COVID-19 impacts.  Applicants may serve individuals, businesses/organizations, or communities, but individuals and businesses may not apply directly for grants.
It is important to grow this fund in order to have resources to distribute to those entities that need our help.  All gifts to the COVID-19 Fund are tax-deductible as charitable contributions. As is NDCF's policy in such circumstances, NDCF will waive its usual management fees so 100% of gifts will go to the disaster response (online credit card donation fees still apply).  Donors will receive a tax receipt from NDCF for their gift.
NDCF is in contact with colleagues around the country and in North Dakota, North Dakota Department of Emergency Services personnel, and nonprofit organizations across the state. The goal of these discussions is to find gaps in the government or other responses so that any grants from the Fund will not duplicate efforts, but instead be used for unmet needs.
A committee of North Dakota citizens will recommend the grant awards from the fund to assist in response and recovery efforts.  
Individuals and businesses that would like to donate to the fund can donate online here, or mail your check made out to "North Dakota Community Foundation" with "COVID-19 Fund" in the memo line to:
North Dakota Community Foundation
PO BOX 387
Bismarck, ND 58502

To Apply for a Grant from the COVID-19 Response & Recovery Fund:
ELIGIBILITY
Nonprofit organizations or governmental entities (like a school or park district) located in or significantly serving a community or area in North Dakota;
Demonstrates a need for funding due to the pandemic or the impact of following public health recommendations taken to flatten the curve of COVID-19 infections locally, for the purpose of either:
Continuity of operations support due to increased expenses or decreased revenue;
Providing new, increased, or changed support to affected people, organizations, businesses, or communities.
PRIORITIES
Nonprofit organizations or governmental agencies providing basic needs services to communities that were already vulnerable before the pandemic, especially senior citizens, or are disproportionately affected by the pandemic and the impact of the resulting public health measures on finances and service availability.
Nonprofit organizations or governmental agencies providing any services to such vulnerable or disproportionately affected populations as described above.
Other nonprofit organizations or governmental agencies experiencing challenges due to following public health recommendations, with a focus on those that need support to implement remote work or that are at high risk of staff reductions.
EVALUATION CRITERIA
Priority: Organization's ranking in first, second, and third priorities above.
Reach: Organization provides services to a large population, or provides intensive or specialized services to a smaller population.
Need: These funds will fill a gap not able to be filled by other resources.
AVAILABLE AMOUNT
In this unprecedented situation, we must all be flexible to respond as needed within the resources we have to offer. We will set no maximum grant amount, however, our committee will be cognizant that this is a state-wide fund and we have limited resources to distribute as fairly as possible.
TIMELINE
Applications will be evaluated and decisions issued on a rolling basis, as quickly as possible.
APPLICATION PROCESS
Applications are submitted via our online grant system. Applications will be evaluated and decisions issued on a rolling basis, as quickly as possible.
EXAMPLES OF ELIGIBLE REQUESTS
Examples of eligible requests include but are not limited to:
Continuity of operations

An eligible nonprofit needs to purchase technology to allow its employees to work remotely or shift to delivering services remotely via phone or video conference.
An eligible nonprofit needs additional supplies and staffing to effectively clean and space out their on-site services
An eligible nonprofit's fee-for-service revenue is reduced because it cannot provide those contracted services.
An eligible nonprofit must pay staff to do activities that volunteers would normally do, or pay for staff that are filling in for absent staff.
An eligible nonprofit's major fundraiser or fee-based events were cancelled, reducing income.

New, increased, or changed support to affected people, organizations, or communities

A homeless services organization must find an extra location to house clients who are sick.
A senior services organization cannot serve its clients in congregate meal settings and needs to be able to deliver food.
An eligible nonprofit will provide more of its usual services because more people/businesses are now in need of those services.

Questions about making a donation to or receiving a grant from this fund should be directed to the NDCF main office at 701-222-8349.
Thank you for your concern for our fellow North Dakotans!  Please wash your hands and follow other recommendations of the Center for Disease Control and the North Dakota Department of Health to help slow the spread of this virus.