Hatton Area Community Foundation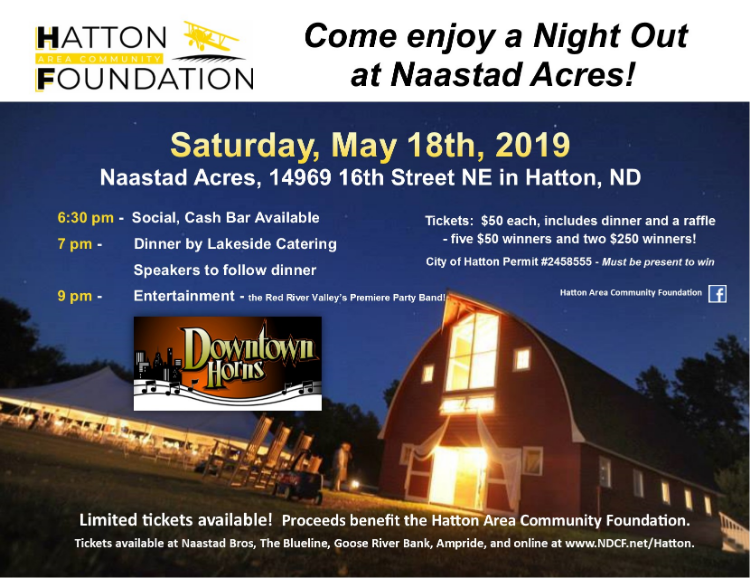 About the Hatton Area Community Foundation
Established in 2018 to support charitable programs in Hatton and the surrounding area, the Hatton  Area Community Foundation is a permanent endowment fund that can support our community for years to come.  Earnings from the fund will be given as grants to support nonprofit projects or programs in the area that work to improve our community and quality of life. 
Initial Steering Committee
Bruce Vold

Joy McLain

Joy Vaagene

Dana Boe

Joe Garcia

Sparkle Yeargan

Sara Johnson

Sig Letcher

Gary Lillemoen

Dave Vold

Kallie Naastad

Faye Duncan
Contact
Bruce Vold:  701-653-5949
Hatton Area Community Foundation
PO Box 232
Hatton, ND  58240
Or contact NDCF Development Director Amy Stromsodt at 701-741-3193.
Join Us for Our Campaign Kickoff!
The Hatton Area Community Foundation Advisory Committee is hosting a Campaign Kickoff to introduce the organization to the community.  Come be a part of the start of the future of Hatton - you will want to say you were there when it all began!
When:  Thursday, August 2nd, 2018 at 7 pm - Desserts and refreshments will be served.
Where:  Carl Ben Eielson Museum, 405 Eielson Street in Hatton
Why:  To Create a Brighter Future for our Community!
Copyright © 2020 North Dakota Community Foundation