Ellendale Area Community Foundation
About
Grant History
Apply for a Grant

About the Ellendale Area Community Foundation
The Ellendale Area Community Foundation was established in 1998 by a gift from Frank Larson of Starion Bank. It provides a method of receiving donations and distributing grants to benefit projects or nonprofit organizations in the Ellendale area. The Foundation is affiliated with the North Dakota Community Foundation, which is a nonprofit, tax-exempt corporation under IRS code 501(c)(3) and North Dakota Law.
The Ellendale Area Community Foundation is managed locally by a group of volunteers whose main activities are building the fund and recommending grants annually. 
Local Advisory Committee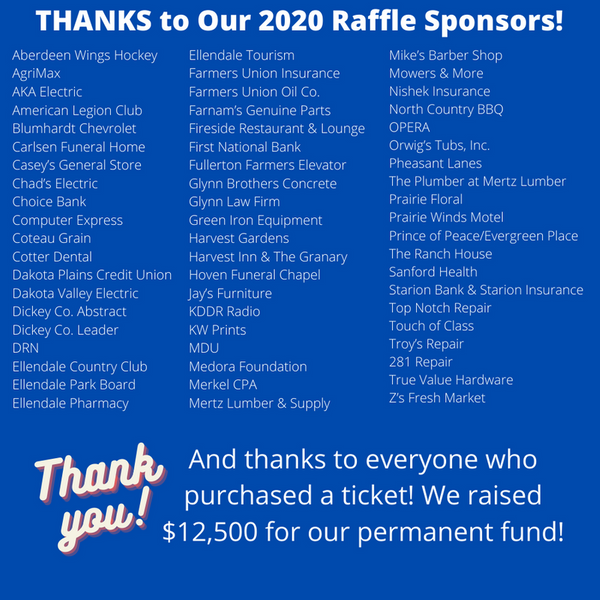 Aaron Tschosik (Chair) 
Monica Mertz
Chad Durheim 
Jeff Glynn
Lana Norton
Travis Anliker
Lori Young
Contact
Aaron Tschosik, Starion Bank
PO Box 99
Ellendale, ND 58436
(701) 349-3213
Ellendale@NDCF.net
Kara Geiger
Development Director, NDCF
701-222-8349
Kara@NDCF.net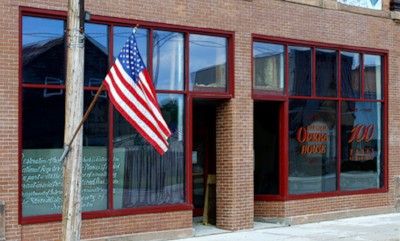 Grants Awarded in 2020
Dickey County Fair Board - $1,897 for Community bathroom update
Ellendale Area Arts Council - $1,000 for EAAC "Kids Art"
Ellendale Area Arts Council - $1,000 for Summer Concerts in the Park
Ellendale Community Ambulance - $4,785 for AUTO PULSE CPR DEVICE
Ellendale Fire Protection District - $4,200 for Saw Kit
Ellendale Historical Society - $2,000 for Van Meter Schoolhouse Foundation and Move
Ellendale Park Board - $2,000 for Park Board Soccer Program
Ellendale Police Department - $500 for Updated Armored Vests and Carriers
Kedish House - $1,000 for Safety Equipment
NDSU Extension Service - Dickey County - $4,000 for Archery Building Remodel
O.P.E.R.A., Inc. - $1,000 for Phase 1 Renovation of the Historic Ellendale Opera House

Prince of Peace Care Center - $3,000 for Resident/Community Wellness Courtyard
Apply for a Grant from the Ellendale Area Community Foundation
Ellendale Area Community Foundation makes grants only to those organizations designated by the IRS code as a 501(c)(3) nonprofit tax exempt groups or government agencies. Grants to religious organizations are limited to non-religious projects and programs, such as community food pantry or daycare. Grants will not be made to individuals.
 
Any group wishing to apply for a grant must submit a request online (see below). Applications must be received by March 15 each year. The deadline may be extended at the discretion of the Advisory Committee. The Advisory Committee reviews applications in April. If the committee has not notified you by May 1, you will know that your project was not chosen at this time.

In considering a request, the committee will consider:
Organization's management and integrity.

Level of local involvement and support.

The number of people to be served and the impact of the project on the community.

The impact of the grant on the success of the project.

The extent to which the project reflects a new approach to a problem.

Low priority will be given for daily operational requests.
Priorities:
Committee will look at each project on its merits.

Low priority will be given to projects supported by government, or which in the committee's opinion, should be funded by taxes.

No grants outside a 40 mile radius of Ellendale.

Grants will not be concentrated in a single community, except the city of Ellendale will receive a higher consideration because of population as well as being the headquarters for serving other surrounding communities.
Deadline: March 15
---
How to Apply:
Step 1 - Review
Review the grant guidelines above to make sure your organization qualifies.
Step 2 - Register
Create an account on our Grants Portal. You will need your organization's name, EIN, and executive officer's name. Be sure to write down your user name (email address) and password.
Step 3 – Complete Your Application
After registering or logging in, you will arrive at the application section. Click "Apply" to the right of the grant program to which you wish to apply. You will be able to save your application and return later to complete it.
Click here for more detailed instructions and tips for using our online grant system.