Kindred Area Community Foundation

About the Kindred Area Community Foundation

Established in 2005 by a group of residents concerned about the lack of funding for local organizations, the Kindred Area Community Foundation provides a method of receiving funds/donations to benefit projects or non-profit organizations in the geographic area of the Kindred School District, which includes the communities of Davenport, Hickson, Kindred, Leonard, Oxbow and Walcott. The Kindred Area Community Foundation is administered by the North Dakota Community Foundation, a non-profit, tax-exempt corporation under IRS code 501(c)3 and North Dakota state law, in accordance with their investing and grant making policies.
An Advisory Committee of citizens representing the respective communities in the school district shall be responsible for local fundraising and issuing of grants. Every effort shall be made to maintain a healthy cross-section of persons representing the residents across the district. New members shall be elected by the existing board.

MISSION STATEMENT
The mission statement of the Kindred Area Community Foundation is to improve the quality of life for residents in the Kindred School District through charitable giving and promoting philanthropy.
 
Local Advisory Committee
Deb Clark
Lisa Anderson
Matt Palluck
MaryJane Nipstad
Lori Plankers
Sheri Bartels
 
Contact
kindred@ndcf.netKindred Area Community Foundation
PO Box 42
Kindred, ND 58051
or contact Amy Stromsodt, NDCF Development Director at 701-795-1531.
How to Apply for a Grant from the Kindred Area Community Foundation
GRANT GUIDELINES
Grants shall be awarded to organizations and/or projects within the boundaries of the Kindred School District. An organization must be based within those boundaries to qualify for funding.
Low priority will be given to applications requesting funding for day-to-day operations.
Grants to religious organizations shall be limited to those activities which are non-denominational and serve the entire community.
The Kindred Area Community Foundation shall not make grants to individuals.
Organizations shall be limited to one request per calendar year.
The Kindred Area Community Foundation will accept grant applications once each year. Applications are due by October 1 to be eligible for that grant cycle. Applicants will be notified as soon as practical as to the committee's decisions.
In funding decisions, the Advisory Board will consider:
Each project on the merits of the project
Organizational management and integrity
Level of local involvement and community support, to include fundraising
The number of residents served and the overall impact on the community
Degree to which the Kindred Area Community Foundation grant will affect the success of the project
Application Deadline: October 1
---
New for 2019 and Beyond:
We made it easy for you to apply online for a grant!
Step 1 - Review
Review the grant guidelines above to make sure your organization qualifies.
Step 2 - Register
Create an account on our Grants Portal. You will need your organization's name, EIN, and executive officer's name. Be sure to write down your user name (email address) and password.
Step 3 – Complete Your Application
After registering or logging in, you will arrive at the application section. Click "Apply" to the right of the grant program to which you wish to apply. If you do not see your desired grant program on the list, contact our office. You will be able to save your application and return later to complete it.
Click here for more detailed instructions and tips for using our online grant system. (PDF)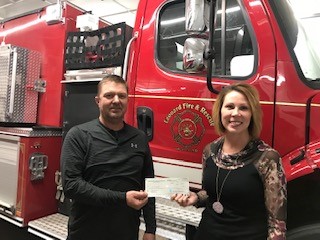 Grants Awarded in 2019:
BIO Girls, Inc. to support a local chapter in Kindred for Pre-Teen girls - $1,500
Kindred Area Arts Partnership for the Native American Artist Series: Kindred Public Schools Artist in Residence - $1,000
Kindred High School Booster Club toward a new regional track - $900
Kindred Park Board to plant new trees at Progressive Ag Softball Fields - $1,000
Kindred Youth Baseball to support Kindred Baseball and ADA renovation project - $900
Grants Awarded in 2018:
Davenport Park Board to purchase a new picnic table - $574
Kindred Area Arts Partnership for Artist in Residence Program - $1,000
Kindred High School Boosters Club to support the Viking Pride Fundraising Dinner  - $1,000
Kindred Youth Baseball toward the Kindred Baseball Renovation Project - $1,000
Leonard First Responders to purchase new AED devices - $1,500
Grants Awarded in 2017:
Kindred High School Boosters Club - Viking Pride Fundraising Dinner:   $1,157.25
Kindred Area Arts Partnership (KAAP) for an Artist-in-Residence program:  $1,157.25
Leonard Fire Department for personal protective gear for volunteer firefighters:  $1,157.25
Davenport Park Board to purchase new picnic tables:  $1,157.25
Kindred Concert Series to provide free teaching session/concert to Kindred students:  $250
Copyright © 2020 North Dakota Community Foundation