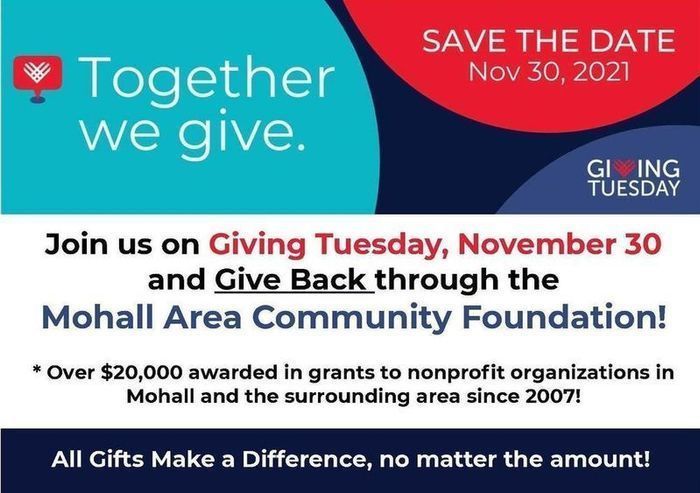 Mohall Area Community Foundation
About
Grant History
Apply for a Grant


The Mohall Area Community Foundation was established in 2007 by a group of residents concerned about the lack of funding for local organizations. It provides a method of receiving donations and distributing grants to benefit projects or nonprofit organizations in the Mohall area. The Foundation is affiliated with the North Dakota Community Foundation, which is a nonprofit, tax-exempt corporation under IRS code 501(c)(3) and North Dakota Law.
The Mohall Area Community Foundation is managed locally by a group of volunteers whose main activities are building the fund and recommending grants annually. Visit the Grants History tab above to see the list of grants recently awarded. 
Local Advisory Committee
Chantel Southam 
LaVonne Erickson
Kristy Titus
Contact
Kristy Titus
PO Box 68
Mohall, ND 58761
701-756-6288
Mohall@NDCF.net
Kara Geiger
Development Director, NDCF
701-222-8349
Kara@NDCF.net
The Mohall Area Community Foundation has awarded over $20,000 in 24 grants since its inception in 2007. Recent grant awards are listed below.
2021
City of Mohall - $1,200 Splash Pad Project

Renville-Bottineau Senior Citizen's Homes - $750 Facility Updates

Zion Lutheran Church - $450 School Supply Giveaway Program
2020
City of Mohall - $996 for the Splash Pad

Kenmare Wheels and Meals - $1,200 for Mohall Hot Meal Home Delivery
2019
City of Mohall - $1,000 Fairgrounds Playground Equipment

Kenmare Wheels and Meals - $390 Senior Meal Program

Mohall Lansford Sherwood School District #1 - $600 STEM Makerspace
Guidelines and Procedures
• Grants shall be awarded to those organized under IRS code 501(c)3 and those with an official relationship to a government entity (school, park district, city etc.)
• Grants shall be awarded to organizations that serve the community of Mohall.
• Grants will generally not exceed $1000 per application. 
• Grants to religious organizations will be limited to those activities which are non-denominational and serve the entire community.

In funding decisions, the board will consider the following:
• Organizational management and integrity
• Level of local involvement and support
• The number of people to be served
• The impact of the grant on the success of the project
Deadline: September 15
---
How to Apply
Step 1 - Review
Review the grant guidelines above to make sure your organization qualifies.
Step 2 - Register
Create an account on our Grant Portal. You will need your organization's name, EIN, and executive officer's name. Be sure to write down your user name (email address) and password.
Step 3 – Complete Your Application
After registering or logging in, you will arrive at the application section. Click "Apply" to the right of the grant program to which you wish to apply. If you do not see your desired grant program on the list, contact our office. You will be able to save your application and return later to complete it.
Click here for more detailed instructions and tips for using our online grant system.