Galesburg Area Foundation
About the Galesburg Area Foundation
The Galesburg Area Foundation was established in 2012 to promote charitable work in Galesburg, North Dakota. It provides a method of receiving donations and distributing grants to benefit projects or nonprofit organizations in Galesburg. The Foundation is affiliated with the North Dakota Community Foundation, which is a nonprofit, tax-exempt corporation under IRS code 501(c)(3) and North Dakota Law.
The Galesburg Area Foundation is managed locally by a group of volunteers whose main activities are building the fund and recommending grants annually.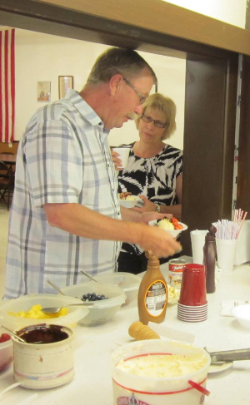 Local Advisory Committee
Kayla Elliott, Chair
Catherine Albert, Secretary
Ken Voltz
Don Olstad
Lori Paulson
Greg Krieger
Rick Halvorson
Contact
Galesburg Area Foundation
c/o Dakota Heritage Bank
PO Box 110
Galesburg, ND 58035
701-650-9877
Or contact Amy Stromsodt, NDCF Development Director, at 701-741-3193.
How to Apply for a Grant from the Galesburg Area Foundation
Grant Guidelines:
1.  Makes grants only to those organizations designated as a non-profit, tax exempt organization under IRS Code 501(c)3 or to government agencies.
2.  Makes grants to qualifying organizations in the city of Galesburg
To Apply: Download application form and return completed form to:
Galesburg Area Foundation
c/o Dakota Heritage Bank
PO Box 110
Galesburg, ND 58035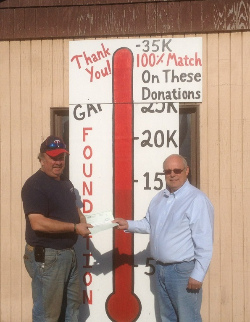 Grants Awarded in 2019;
$2,000 to Mayville Portland Clifford Galesburg Public School toward building a greenhouse to support the new Agriculture Program 
$650 to Hope Early Learning Center to purchase electronic educational equipment, a SmartTV for the preschool and a diaper changing station
Grants Awarded in 2018:
$500 to the City of Galesburg for new blinds and chairs for Memorial Hall
$2,400 to the Galesburg QRU to purchase two AED units for area first responders
Grants Awarded in 2017:
$800 to Hope Early Learning Center for Playground Improvements
$600 to Hospice of the Red River Valley to support the bereavement program
$1,200 to Galesburg Community Housing for a new coin operated washer and dryer set
Grants Awarded in 2016:
 $1354 to the Galesburg Rural Fire Department to purchase a commercial fan for air cleaning
 $1000 to the Galesburg Quick Response team to purchase new pagers and supplies
Grants Awarded in 2015:
$1,500 to the Galesburg Rural Fire Department to purchase new fire suits
$880 to Galesburg Community Housing for new coin operated washer and dryer
Grants Awarded in 2014:
$2,200 to the Galesburg Rural Fire Department for fire protection equipment
Copyright © 2020 North Dakota Community Foundation