About
Announcements
Grant History
Leave a Legacy
Mission Statement
The Grenora Public School Foundation seeks to challenge and encourage all students to become lifelong learners and effective decision makers.
About the Grenora Public School Foundation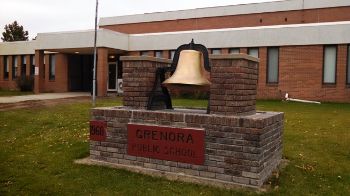 The Grenora Public School created the Grenora Public School Foundation in March 2012 to supplement the funding of projects that will "improve students' learning and life experience."  This project fund provides donors with a way to make tax-deductible donations for the benefit of the Grenora Public School District.
Our area in northwest North Dakota is a dynamic environment, with changes happening rapidly.  In the mid 2000's, the school's K-12 enrollment at Grenora Public School was 44 students.  That number has now grown, approaching 200 students.  This growth in an oil boom economy, changing requirements in education, and the passion of many, drive the need for improved school resources and facilities.  See our Projects link for needs we are filling with funds from generous donors to the Foundation, as well as projects we'd like to see funded.
Donations to Grenora Public School Foundation through the North Dakota Community Foundation are tax deductible.  The NDCF is an IRS-designated 501(c)(3) statewide public non-profit tax-exempt corporation that receives and distributes charitable funds to support a wide range of programs, which benefit North Dakotans, including our students at Grenora Public School through the Grenora Public School Foundation.
The Grenora Public School Foundation is a component fund of the North Dakota Community Foundation. NDCF works in conjuction with the GPSF advisory committee to ensure donations are managed properly, oversees approval of  appropriate projects, and helps assist with marketing and fundraising programs. 
FOUNDATION Committee members include:
President--Carlyle Norby, GHS 1964
Vice President --Alison Carlson, GHS Class 2009
Secretary--Ron Laqua, GHS Class 1972
Nicole Berg, GHS Class 1994
Treasurer---Tom Field, GHS Class 2015
Aaron Rudningen, GHS Superintendent
Lee Garaas, GHS Class 1972
Lavern Johnson, GHS Class 1980
Lee Gunlikson, GHS ('70)
Sue Zavalney, GHS Class 1981
QUESTIONS -- DONATIONS -- IDEAS please email the committee at  grenorakids@gmail.com
Ways to Donate
You have many options available to donate to the Foundation - click this "Donate" tab at the left to send your check or make a secure online donation one time, or make it reoccuring to fund an amount you like over time. 
Contact Us
Questions? Suggestions? We'd like to hear from you.  Email us or call the Grenora Public School's at 701-694-2711.
Projects
Generous donations from alumni and others have enabled the completion of these projects at Grenora Public School Foundation, some of which were in conjunction with donations from other individuals and entities. Thanks a bunch !!